SELF CHECK IN
Fully integrated with the hotel management system a self-service terminal allows the guest to check in independently upon arrival at the hotel or healthcare facility, without the assistance of staff.
Terminalas atlieka visas svečio įsiregistravimo funkcijas: randa svečio rezervaciją, patikrina asmens dokumentą, pateikia užsakytų paslaugų suvestinę, priima mokėjimą per banko mobiliąją programėlę, suprogramuoja ir išduoda svečio kambario raktą-kortelę.
About us
HELPING TO MANAGE YOUR HOTEL DAILY
New convenient booking system for spa hotels! BookingRobot is going to cut your administrative costs, increase sales and improve customer service! Due to automated booking and purchase of hotel services, the flow of client telephone calls and e-mails will be reduced. The possibility to book a hotel room 24/7 will be of particular interest to foreign clients. BookingRobots attractive and professional design is definitely going to leave better first impression and bring more visitors directly to your hotel website, therefore competitiveness of your hotel is going to increase.
HELPING TO MANAGE YOUR HOTEL DAILY
The dynamic BookingRobot system will become a special element of your hotel website. Make your service packages more noticeable - show your clients promotional photographs, inform about soecial offers and discounts. BookingRobot can also facilitate your Social Media Marketing - with a single click your clients will be able to tell friends about the holiday packages purchased from your hotel. Responsive website allows to purchase gift voucher instantly (less than 5 minutes) via a smartphone, tablet, or desktop PC.
FUNCTIONS
THE BOOKING SYSTEM
A convenient 2-week calendar tailored for spa hotels
Live booking and sales with hotel management software
An attractive and responsive design suitable for nes, tablets, and desktop PCs
GIFT VOUCHERS: SIMPLE, ATTRACTIVE, AND FUNCTIONAL
BookingRobot automated gift vouchers: purchase and delivery just in just 5 minutes! The possibility to sell 3 types of gift vouchers: for service packages, for specific service packages and specific room types, and for particular services. The possibility to check gift vouchers by scanning QR codes with mobile devices facilitates the work of your employees.
THE BOOKING VOUCHERS SYSTEM
100% automated online sales of gift vouchers
Sell gift vouchers for particular services and service packages
Purchase and delivery of a gift voucher requires only 5 minutes. Clients can print gift vouchers using thei own printers, or just use pdf.
Gift vouchers are protected with security code and are safe from illegal replication. By scanning a QR code you can check or change gift voucher status.
Multiple hotel chains can manage gift voucher sales in one central location.
IMPROVE YOUR CUSTOMER SERVICE!
Optimized and responsive system
Booking is available in 7 different languages:
The possibility to automate vacant room management and automatically reveice bookings from Booking.com
Sending automatic confirmations
An outstanding accounting and gift voucher management tool that saves employee time
Installation of the BookingRobot system requires 10 days only
Automated payments via banks and with credit cards
CONNECTED WITH
"BookingRobot" is integrated with payment networks (Paypal, Paysera (ex. mokėjimai.lt), Trustpay, Bitcoin, Swedbank, SEB, DNB), hotel management systems (Newhotel, Hotex), social networks (Facebook, Google+) and sales channels (booking.com).
Booking

Robot

HOTEL PMS (Property management system)

ALREADY CHOOSEN US
How it works
Create
Reservation
Reservation
remotely
REGISTRATION
at the reception
REGISTRATION
"self check-in"

Relax
in the room

Check out
On the day of departure received SMS / e-mail with payment link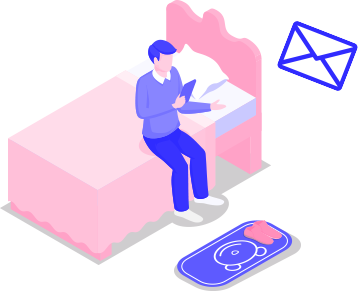 Departure
Payment request
Easy and quick payment collection. With only few clicks you can initiate payment request and the system will send your client payment link through email and/or sms
You want to avoid manual labor? We can configure automatic rules for orders to automatically create payment requests and how many times to send it to clients
MORE
STYLIZATION AND PRESENTATION OF THE BOOKINGROBOT SYSTEM
The BookingRobot system can be stylized choosing the right colors, photos, fonts, icons and button shapes. Usually style preparation is the job of home page designers.
Here are some presentation options that can be set as default:
from 129 €
Min 2.
per person
Double room
Reserve
By traditional search with dates:
Strips
PRICE
INSTALLATION FEE, CONFIGURATION AND DISTANCE LEARNING FEE
970 EUR
+ VAT
Support fee
2% + VAT

of online bookings

5% + VAT

nuo online parduotų dovanų kuponų.

0.9% + PVM

nuo aptarnautų Expedia.com ir Booking.com rezervacijų vertės
Exempt
Ticket sales. "NoriuNoriuNoriu","KelioniuAkademija","Makalius"
Updates
Invoices are issued on the last day of each month and placed in the administrative panel.
All revenue from sales from the customer's account travels directly to hotel account.